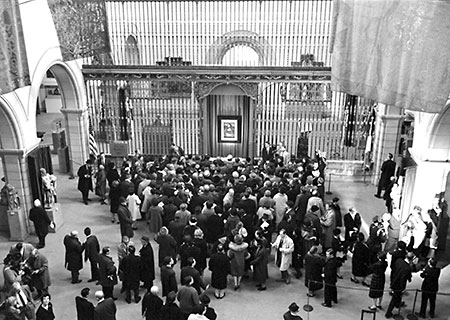 I remember it was difficult to get close enough to see. I wasn't that old, and I didn't have enough size to muscle my way through the crowd. She was high up on a wall, higher than you'd expect to see a painting in a museum. And she was in a bullet proof case. But somehow, her sly smile shown through the thick glass. It was unmistakable, it was the Mona Lisa.
I was one of nearly two million people who saw the Mona Lisa during its brief, two-month visit to the United States in the winter of 1963.
The Mona Lisa spent most of January at Washington's National Gallery and then nearly another month at New York's Metropolitan Museum of Art. I saw it in New York as we lived nearby in New Jersey at the time.
The painting is a French cultural treasure. Many experts and most of the French public resisted the idea of the painting leaving the Louvre. Leonardo da Vinci's masterpiece was painted in 1503 on wood, not canvas, and could easily warp, sloughing off paint, when the temperature or humidity changed.
The painting would never have come to America without the power and influence of First Lady Jackie Kennedy who lobbied France's minister of culture.
The French would not allow the painting to travel by plane. Instead it sailed across the Atlantic aboard the ocean liner SS France. It was housed in a specially constructed, temperature-controlled, water and fire proof container that was affixed to the bed frame in a deluxe cabin. The flag of France was painted on the outside of the container. In the event the ship caught fire, the Mona Lisa could be tossed overboard in her floating case and rescued later.
I saw the painting sometime after its debut at the Met on February 7th. By special agreement between the two governments, no admission was charged to see the masterpiece and viewing hours were extended to 9 p.m. I was one of thousands of people who lined up in the freezing cold New York winter in order to file into the museum's medieval sculpture hall where a special display had been set up for the Mona Lisa.
On March 7th, the Mona Lisa was put aboard the SS United States for the trip back to France. By March 12th, the painting was back in the Louvre and it has not traveled since.
Check out this article on a new artificial intelligence system that can create realistic animations from a single static image such as da Vinci's famous portrait. Mona Lisa Comes to Life in Computer Generated Living Portrait.